(September 15th, 2021) – Fintech training platform 10×1000 Tech for Inclusion ("10×1000) announced that it will deepen its collaborations with partners worldwide, working with leading global organizations, tech investors, and industry organizations to offer a program that enables aspiring practitioners to learn from global experts at their own pace.
The Fintech Foundation Program Flex is a fully online certificate program providing practitioners with the mindset, knowledge and skills to become drivers of digital economic growth, according to 10×1000, a global and philanthropic fintech training initiative launched jointly by the International Finance Corporation (IFC), a member of the World Bank Group, and Alipay in 2018.
Flex learners will be recruited through partners such as the IFC (including the SME Finance Forum), United Nations Economic Commission for Africa, Dubai International Financial Centre, Malaysia Digital Economy Corporation, KPMG and fintech associations from Hong Kong, Malaysia, the Philippines, and Singapore.
In Thailand, Thai FinTech Association will partner with 10×1000 to recruit 100 Flex learners locally to embark on the program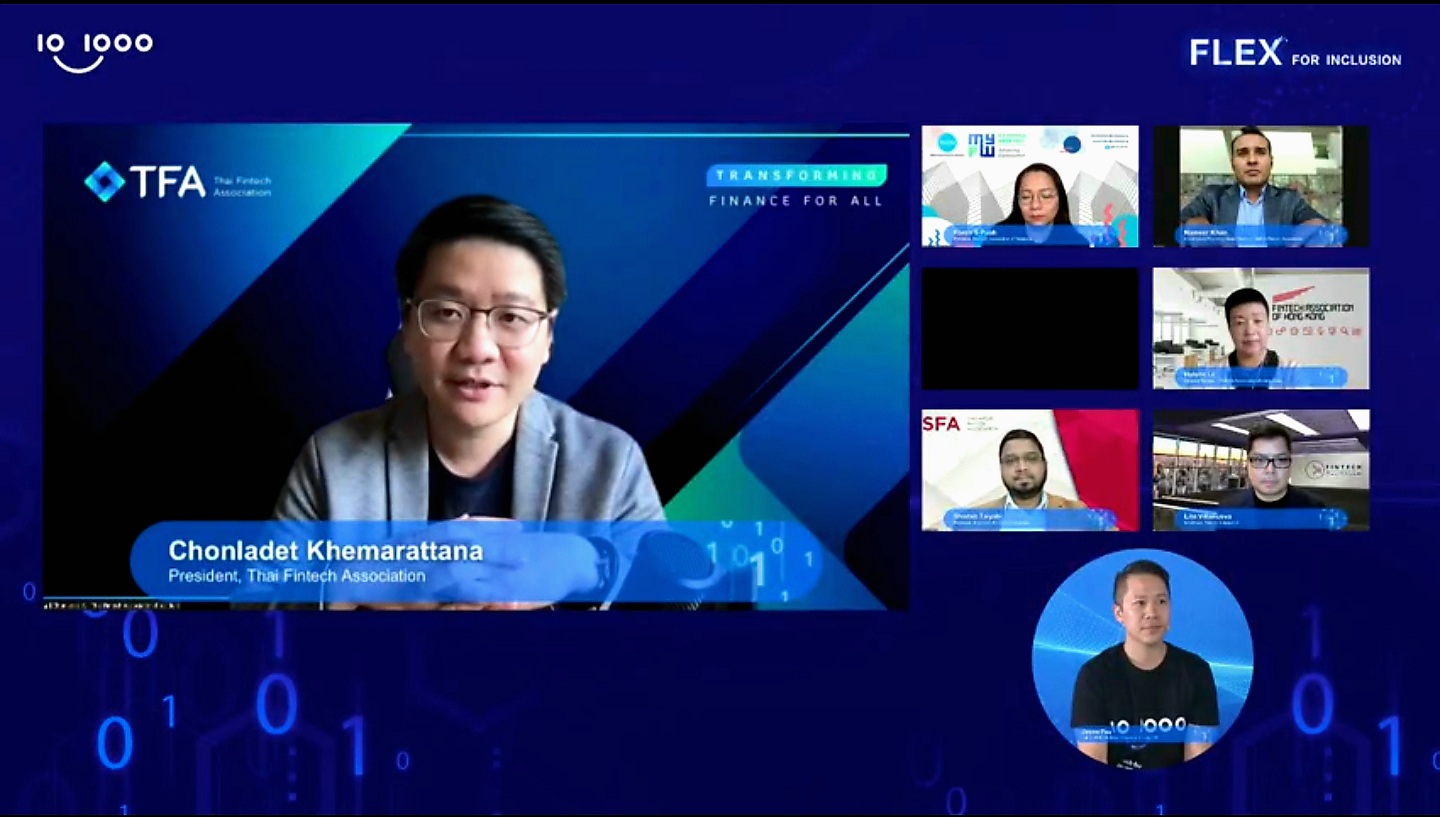 Mr. Chonladet Khemarattana, Thai Fintech Association president said "It is an honor to collaborate with 10X1000 to further develop and strengthen the Thai Fintech industry because we believe that the sector is important to our economy growth. But now, there is a lack of knowledge and talents, hence, this collaboration would be a great opportunity to lay the Fintech knowledge foundation for Thai startups through online training with international Fintech experts from the 10×1000 network. The association shares the same goal with 10×1000 to bridge digital skills gap to drive inclusion, and to bring both fundamental and in-depth Fintech knowledge to the local community. The Flex program would be a foundation for Thai startups to develop knowledge before proceeding to other in-depth Fintech courses which we plan to roll out in early 2022."
The Flex program is suitable for industry practitioners with fundamental Fintech knowledge or have at least three years of industry experience. Flex learners will hear directly from tech entrepreneurs, senior leaders at Ant and other fintech firms as well as distinguished scholars, sharing their first-hand knowledge on topics ranging from 'the tech behind fintech' and best practices in leveraging technology to solve real business problems.
The program is in English and offers a flexible learning process. Flex learners can schedule to start the program at any of these four dates – October 11th, October 15th, November 1st, or November 8th, and they will be given a certificate once they complete eight lessons and three tests within three weeks.
Eric Jing, Chairman and CEO of Ant Group, owner and operator of digital payments platform Alipay said "We are delighted to join hands with Thai Fintech Association to  bring the 10×1000 training platform to learners worldwide, as we seek innovative approaches to meeting a common goal of bridging the digital skills gap. I am excited that learners from 10×1000's new Flex program will gain the fintech knowledge they need to support their communities, and help bring us closer to meeting the UN Sustainable Development Goals (SDGs)."
Mr. Chonladet also added that the Thai Fintech Association will recruit Flex learners from Thai Fintech Association member list with at least 3 years of Fintech or related-fields experience. The enrollment would start from September 20th – October 4th on www.thaifintech.org. The learner list will be announced on October 8th, 2021 via email on file that used in enrollment; for more information, please visit https://thaifintech.org.
—————————————————————————————————————————————————————————————————————————————————————-
About "Thai Fintech Association"
Thai Fintech Association (TFA) is the non-profit organization established on 2016 with the purpose to encourage the cooperation from stakeholders in all sectors to develop Thai Fintech industry for sustainable growth internationally.
Connect us: https://www.facebook.com/ThaiFintechAssociation  or https://thaifintech.org
About "10×1000 Tech for Inclusion"
10×1000 Tech for Inclusion is an open and global fintech training platform that enables learners to become drivers of digital economic growth. Its mission is to train 1,000 emerging talents and tech leaders each year for the next ten years. 10×1000 is a philanthropic initiative launched jointly by the International Finance Corporation (IFC), a member of the World Bank Group, and Alipay in 2018.
—-
For more information, please contact:
Public Relation Consultant, Brand Communication co., ltd. as a partnership
K' Aum, Mobile: 082-635-5656, K' Nutcha, Mobile: 084-644-5303